Sentinel India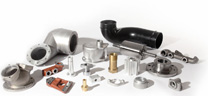 Sentinel Manufacturing has been a key supplier to the power generation sector for over 20 years. Offering CNC machining and engineering solutions at competitive rates, the business is driven by Key Performance Indicator measurement and analysis. Innovative supply options are operated by managing India with UK contingency sourcing. Risk management and quality improvement are key aspects of our remote supply strategy. Sentinel's next moves involve both further diversification and growth.
Sentinel Manufacturing (India) Pvt ltd is an establishment set up by Sentinel Manufacturing Pvt Ltd UK. This enterprise consists of ownership of an Aluminium Foundry and total control over a Machine Shop, both based in Pune.
Latest News
2nd.October.2018
Sentinel Manufacturing India win "Best Casting Award" at the GDC Tech Event in Pune this weekend!
25th.September.2017
Sentinel Manufacturing India have officially moved into our new big premises in Chakan!
24th.October.2016
Sentinel India win "Best Casting Award" at Pune Event!